In the media …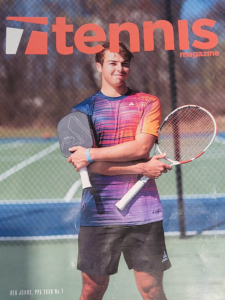 Recent media articles are popping up all over the publishing spectrum.  Here's a sampling that will convince you that America's fastest growing sport is probably going to be around for a while.
Pickleball – "no longer considered just a fad" articles:
Tennis magazine devoted over 40 pages of their most recent issue to articles about Pickleball, concluding that "this addictive game is more than a fad – it's a phenomenon" …
Oh wait, they did include a tennis article …
So PB is popular, but can something so fun still be good for you? Really?
Remember Parade magazine, that must-read part of your Sunday newspaper delivery?  Well …
No surprise that Time magazine chose an "old folks" angle …
For those with high-brow reading tastes, here's the New Yorker fer ya …
And those into the macro societal impacts of the sport …
And for those of you tying the knot …
Still with us?  Here's some media coverage on court availability around the country.
Local media news covering our local court shortage …
SF players: find solace in knowing other cities struggle with adequate court space too …
And in San Diego, the disparity they're dealing with is best illustrated in this youtube video
Whew, makes us glad we're just a dinky little local website.  Happy reading & stay out of the kitchen, folks.