The SFPC HOLIDAY PARTY – Dec, 2021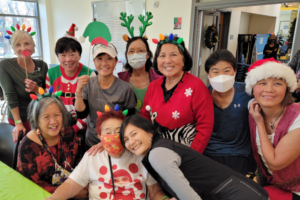 The SFPC Holiday Party was a fun-filled event held at the Hamilton Recreation Center on TU, Dec 7.  Attendance had to be capped at 80 due to Health Code protocols, and we're sorry not more could join the festivities and general merriment.
The morning kicked off with Pickleball play in the Hamilton gym, followed by a gathering in the multi-purpose room for lunch and a big helping of community spirit.  It was great to see all the camaraderie and seasonal cheer – truly indicative of the social nature of Pickleball culture.  And of course there was live music – led by Debbie You and her ukulele troop, "Double D and the G Strings".  Dancing the Hokey-Pokey was too hilarious for words.
Bill Lafferty and Hans Carter were given Community Volunteer Recognition awards, and the party crew volunteers, led by Springer Teich and her team, did a wonderful job of organizing, set-up and returning the room to it's original pristine condition under the watchful eye of Rec & Park.
Hopefully, we will be able to host a similar event next year.  Thanks to all guests, volunteers and players who enjoy and support Pickleball.
To see more photos:  https://photos.app.goo.gl/PiAopE5FTFdtgye59