Luke Vandertie – Just Playin' Fun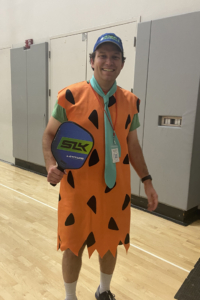 For Luke Vandertie, Pickleball is at the top of his list of fun activities.  And he tries to spread the joy of play within the local community.  His latest venture is introducing youngsters to the game. Luke is a dedicated volunteer who heads our budding Community Youth Outreach program which seeks to introduce the sport to youngsters and give them basic play skills.
Luke was a key leader in organizing and managing the volunteer prog
ram that got initiated with the Boys & Girls Clubs' San Francisco's chapter this past year.  This Youth program started out as an after-school activity at the Excelsior, Don Fisher and Columbia clubhouses.  The focus has been on 9 – 13-year-old youth, and this year the program offers 8-week structured "sessions" focused on skills development.  (see https://pickleballsf.com/sf-boys-girls-club-youth-pb-program-volunteers-wanted/)
"It's great fun," Luke says.  As are some of the classes Luke leads. Last year Luke dressed as Fred Flintstone for Halloween, and Santa Claus at Christmas. "We're looking for volunteers. You don't have to be an experienced player; you just need to enjoy the game and want to spread the fun."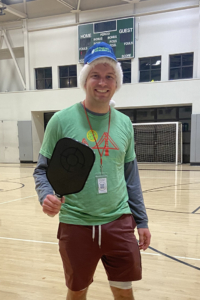 Luke began playing pickleball three years ago when his college roommate introduced him to the game. "It was challenging playing at Presidio Wall." But it wasn't until he joined the round robin at the Wall that Luke "got hooked."  Competition will do that to you.  He estimates his game is at the 3.5/4 level now and "improving."  So say we all.
Though his full-time job with PricewaterhouseCoopers limits his weekday playtime, on weekends, you'll find Luke at the Presidio Wall. "I've brought friends, friends brought friends, and they brought their friends. We're there all weekend. It's a lot of fun."
He even brought the game home to his family. When his Dad worried about what he'll do when he retires, Luke "drove him to a court." "Um," his Dad said, "I never told you, but tennis was my favorite sport." Now his Dad is on the Pickleball court three days a week. "When we visit my parents in San Diego, the whole family plays. It's a great thing to do together."
Keep on dinking, Luke!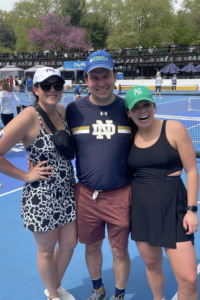 - Judy Goddess