Permanent Courts at Stern Grove
The SF Pickleball Community Leadership team has been meeting regularly with the SF Rec & Park Dept. (RPD) this year to advocate for increased court access at existing venues, and to also find locations for permanent courts.  We feel the event that flooded the dual-use courts at Stern Grove is an excellent opportunity to rebuild that venue's footprint into a dedicated Pickleball court facility. 
RPD is now willing to pursue this proposal for permanent courts at Stern Grove.  They will be hosting a public community meeting to hear from neighbors, Pickleball Players, the tennis community, Stern Grove park supporters, nearby schools and the general public to review and discuss this new proposal, slated for completion sometime next year.
We will announce the date and format to our membership as soon as we know more.  Your support and attendance at the meeting will be critical to making this happen !
Why this makes sense
It's time for more permanent courts for Pickleball.  There are just 11 in the City and only six at Sutter Playground offer drop-in play. The 30+ PB courts provided by dual-lining 13 tennis courts supported the initial growth of Pickleball locally, but the current growth of new player participation in "America's fastest growing sport" requires a smarter investment in facilities by the SF Rec & Park Dept (RPD).  Pickleball has arrived as a major recreational choice, and needs more flexible play options than limited-hour court sharing with tennis.  Rolling nets have helped, but the days of hauling and storing portable nets needs to end and more equitable access to quality recreational play facilities should be provided.
Why this makes sense NOW
Briefly:
The whole Stern Grove hilltop area is already undergoing major construction work.
The dual-lined courts at Stern Grove were destroyed last year by the flood.  This location has a racket sport history and room for expansion.
The PUC is responsible for funding the reconstruction.  No RPD capital budget allocations are needed.
This facility can serve the Western neighborhoods of San Francisco using the proven, successful design of of the Louis Sutter permanent courts.
Good parking is available, and restroom facilities are located in the Grove concert grounds (n.b. see NOTES below).
Tennis has gone elsewhere over the past year, and Pickleball has had to maintain a rocky relationship with tennis at Parkside Square. We will even surrender dedicated hours at Parkside for permanent courts at SG, if need be.  A win-win for both sport communities.
Pickleball has seen an almost 40% growth nationally in participants from 2019.  RPD needs to take action now to have any hope of barely keeping pace with this trend.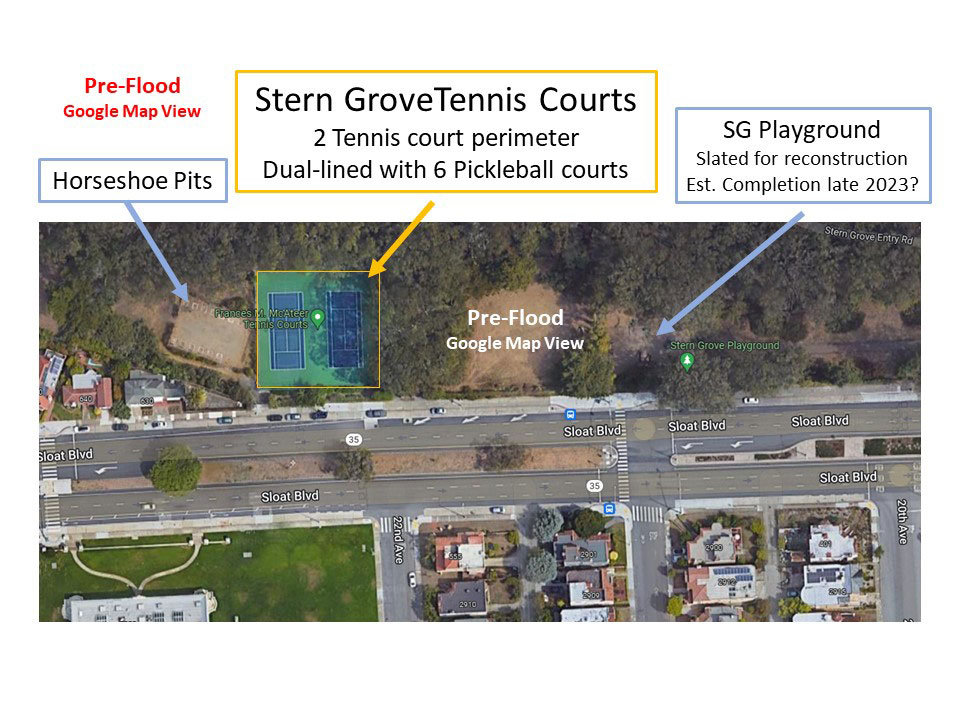 NOTES
RESTROOMS.  One of the parameters in choosing a good location for permanent courts is a nearby restroom.  In the distant past, Stern Grove had a "scary" restroom near the tennis courts and playground along Sloat Blvd; "scary" in that it was often vandalized and used for nefarious purposes.  It was eventually closed, and when Pickleball was established, the only facilities were down a switchback trail to the Grove's floor and main stage area.  As a result, RPD maintained that Stern Grove did not meet our stated criteria for a permanent court site.  However, they now state that a path will be rebuilt, but it may be steep, non-ADA compliant, and perhaps longer than the original one on the hillside.  Nonetheless, they are open to reviewing this restroom criteria discussion, and either modifying the "restroom policy" or granting a waiver based on Community input they receive during the upcoming Public Review meeting.  This will be a major discussion point and the community will need to voice a collective opinion – will the new path design be acceptable or not?  Please formulate an opinion, realizing that NOT ACCEPTABLE may result in restricting the rebuild to dual-lining only.  Please respect the community's final decision, whatever that is.
MORE ON RESTROOMS – RPD has said it will cost at least a half-million dollars (up to $1M) to build a bathroom on the upper level area, a prohibitive amount that rules out this alternative.
NEIGHBORHOOD GROUP INPUT – the Pine Lake Park Neighborhood group is the residential group that will have major influence on the outcome of the Review Meeting.  If you know anyone in that association, please lobby them to support our objectives.
SIX or MORE – our initial thought was the construction of six permanent courts, but the Horseshoe pit, which was never used, could potentially provide real estate for additional courts.  Similarly, the open space to the East could potentially be expanded to accommodate additional courts, bring the total to 8 – 12.  We doubt the RPD plan proposal will include these potential design expansions, but it will be worth discussing these possibilities in the Meeting.
THANKS TO THE SF PICKLEBALL COMMUNITY FOR YOUR SUPPORT.
WE WILL LET YOU KNOW WHEN THE FORMAL MEETING SCHEDULE IS ANNOUNCED.