Stern Grove Community Meeting –  Results
Dateline: November 3, 2022
With a packed auditorium of over 200 attendees, Rec & Parks' Stern Grove Community Meeting about Pickleball courts provided plenty of heartfelt enthusiasm and insightful perspectives. Rec & Park collected Community feedback on 4 proposed options for locating permanent courts at Stern Grove. Their plan now is to take the meeting commentary, plus over 250 emails sent by our Community, plus input from the Tennis Coalition, and with the Rec & Park Commission, determine which proposal will eventually move forward.
We thank all our supporters who took the podium and delivered personal and purposeful commentary, best reflected by what each option's "Comments" Board ended up looking like at the end of the evening.  SEE BELOW (btw, those are Post-it Notes with attendee comments, not votes)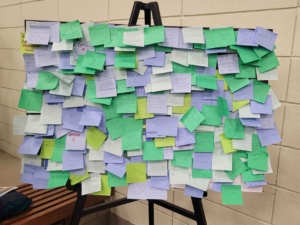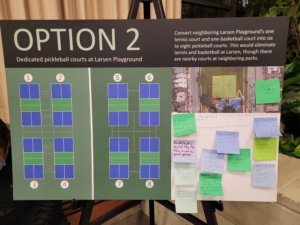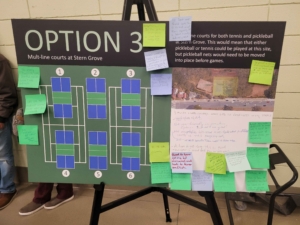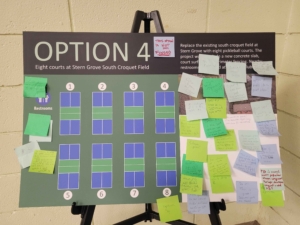 IMPRESSIVE !!!  Plus some media coverage links:
<<<  SF Standard news article >>>
<<< KTVU TV News Story >>>
Next Steps – We will need your support again.
"Going to the Commission" means getting on the Rec & Park Commission's monthly agenda. Then, attendance at their meeting, which usually entails public discussion and public comment.  We will find out more in the coming weeks and let you know the plan.
"There is immense power when a group of people with similar interests gets together to work toward the same goals."
― Idowu Koyenikan