Exporting Pickleball – A Saigon Love Story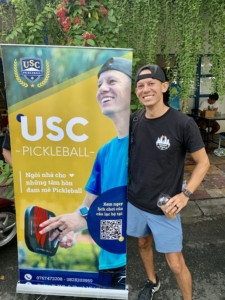 Jason Guillory, born and raised in San Francisco, loves Pickleball.  He started playing at Stern Grove and other City venues, often alongside his Mother-in-Law, Debbie You.  In the summer of 2021, Jason and his family moved to Ho Chi Minh City (aka Saigon), Vietnam as a result of his wife Meghan's, job move.  In his words, "We were amazed by the beauty and the culture of the country, but we also realized that no one there had ever heard of Pickleball. We wanted to change that."  Back in the US now, Jason is the founder of Pickleball Saigon and has succeeded in establishing a robust Pickleball community in Vietnam.
So how do you get adoption for a sport like Pickleball in a country where ping pong, badminton and tennis dominate?  Plus you don't speak Vietnamese?  I'll let Jason tell the story from here:
"We brought a lot of Pickleball equipment with us when we arrived, like paddles, balls, and nets, and we looked for places to play. We faced some challenges at first in gaining access to private tennis courts. With much persistence, I was able to persuade the court managers to let us try. Then we began to invite our friends and spread the word about this fun and easy game."
Jason started with hustle and commitment and figuring out how to strap two nets on his Honda motorcycle.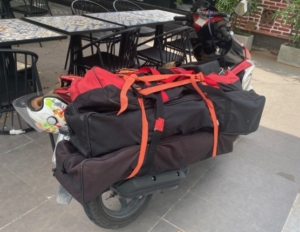 "My main focus in the beginning was targeted toward tennis coaches and high-level tennis players. I made my way from court to court in the hope that one of them would play. I was sure they would enjoy the sport as much as I did.  But this approach was not very successful so I changed my focus toward using social media to develop an interest in the sport with a general tech savvy population."
And social media became the key. Jason was not fluent in Vietnamese, so at first, interest in his appeals to come play this new sport ended up within the foreign community. No worries – Jason shifted gears again:
"With help from Vietnamese-American visitors from Texas and California, I got past the language barrier and began to reach the local population. This is when I was connected to the owner of a hotel/resort who was curious and open to converting his tennis courts into the first 5 dedicated Pickleball courts in Saigon. Together we hosted the first international Pickleball tournament with 143 participants from 4 countries. This tournament ignited the popularity of competitive Pickleball and it began to take off".
Suddenly it's Pickleball buzz, plus with more gear donations from the Bay Area, and boom – ur goin' viral.  As Jason tells it: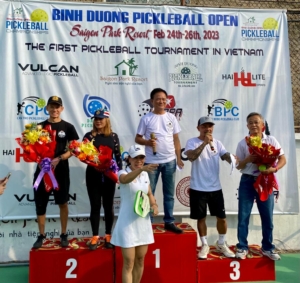 "This tournament also caught the attention of another tennis court owner. He contacted me with an open mind and a willingness to develop this sport in his home country. It is through this particular partnership that I've helped organize multiple clubs throughout the country and new ones are now forming on their own!
"We developed a daily schedule for open play, a coaching program, a youth after-school program, and then expanded from 3 courts to 9 (on his properties alone).  Plus, we always tried and to maintain the spirit of a welcoming community.
"All in all, in less than two years, our community grew from two players (Meghan and I) in one city to over 1,000 active members in six cities. Our "Pickleball Saigon" Facebook page, has reached 1,400 members and is growing every week!"
Pickleball in Vietnam is solidly rooted and has momentum through the efforts of Jason, his family and friends.  Even your SF Pickleball Community played a small part in this story with equipment donations (remember those old portable nets at Presidio?).
But it was Jason's energy and spirit that gives story a happy ending. Jason summed it up:
"We love connecting with other Pickleball lovers and sharing our passion for this game."
We salute his efforts, and are excited to have him back in the Bay Area and ready to play locally. Jason also continues his support for the clubs in Vietnam, so get in touch with him if you want to help out:
Email:  jsnsguillory@yahoo.com
Làm tốt lắm, hãy tiếp tục nhé, Jason!  (Well done!)