Paddle Racks at Presidio Wall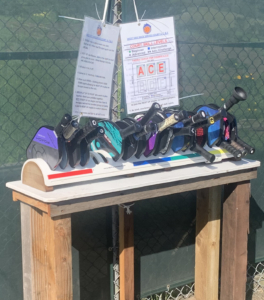 If you've been to the Presidio Wall courts recently, you've seen the new Paddle Rack system in place on Courts 1 & 2 (aka PB courts A-F).  The Paddle Racks have been set up to help manage court "chaos" and improve player traffic flow.  The goal is to make for better court access and smoother play.  Please realize that no system is perfect, and using Paddle Racks is only one approach in use at many places, both locally and out-of-state.  We're doing our best to reduce the congestion and frustration of having 125 or more players arrive at Presidio Wall on a Saturday or Sunday.  The intent is to optimize the "first come, first serve" spirit of drop-in play, and eliminate the need to interfere with play.  Later this summer we will solicit player input and make changes based on your feedback.
The former drop-in procedure of stacking paddles next to a court's net was getting out of hand.  Replacing it are two queues for waiting players, or "Paddle Racks".  One is allocated to the set of 3 courts for "novice/beginner" courts, and the other rack is for the set of courts designated as "intermediate/advanced" play.
Additionally, to improve flow and stop cross-court player traffic, a "slide" procedure is now in use when the Racks start to fill.  This means that when a game concludes, the players on an adjacent court "slide" over and continue their game on the vacated empty court, while the "next up" group enters and starts their new game on the "entry court" for their skill level queue.
Thus far, the new system has been effective and works well until the queue just gets too big and players try to stay together as a foursome.  Some players find the change helpful, others are less impressed, just as some players appreciate the convenience of the "slide", while others complain that changing courts interrupts the flow of their game.  We welcome any change suggestions to help improve traffic flow.
Please note that Courts 3 & 4 will see no change until further court access announcements get rolled out by Rec & Park for Presidio Wall, which we expect to happen soon.  These changes will increase the total dedicated Pickleball access at Presidio Wall until Larsen Playground comes on-line, hopefully by this Fall, with 8 new permanent PB courts.
Pickleball remained America's fastest growing sport in 2022, and is NOT a fad that's going away. Bottom line is that more places-to-play are needed. SF Rec & Park acknowledges this fact and we are working with them to advocate for improved court availability.  But other than Larsen, finding real estate and getting additional projects launched to meet the growing need could be a long time coming.  Until then Paddle Racks and "sliding" are our initial good-faith attempts to help alleviate overcrowding in the short term on our "crazy-busy" courts at Presidio Wall.  Thanks for your support on this.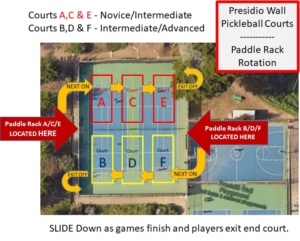 On scene with Judy:  At Presidio Wall with Bill Lafferty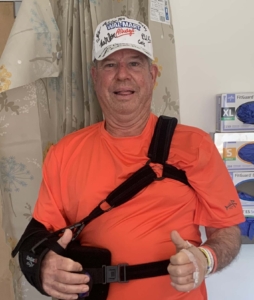 "We can see 125 or more people here on a Saturday or Sunday," Bill Lafferty explained as he showed me around the courts. This was a quiet, late Tuesday morning in March and all 12 dual-lined Pickleball courts were filled, while 20 people were waiting to play.  Bill is a regular at the Presidio Wall, and when he isn't recovering from shoulder surgery – as he is now – his electric bike takes him from his home in the Inner Sunset to Presidio Wall in fifteen minutes. For many years Bill played at the old hand-painted pickleball courts in Golden Gate Park, which got moved to Presidio Wall along with the relocated community when construction began on Goldman Tennis Center.  He is friends with many of the players and has become a spokesperson for two issues affecting the quality of play at Presidio: overcrowding and traffic control.
Despite active advocacy by Lafferty and other members of the player community, there just aren't enough courts for everyone who drops-in. Playing time on the PW courts is shared with tennis players and a private high school. Some courts are reservable through Spotery, while others are available for Drop-in Open Session play.  Free lessons for beginning players are offered every Tuesday from 10-11:30. As the only outdoor pickleball courts on the north side of the city, Presidio Wall is usually crowded. "We need more hours and more courts," Lafferty said.  So, while they're waiting for a positive action plan from Rec & Park, a local community decision was made to address the issue of traffic control at PW by implementing the Paddle Rack system.
Advocacy for more hours and more courts Citywide continues too.  Bill is an active member of the SFPC volunteer team that got approval from Rec & Park for the project to build an 8-court Pickleball-only venue at Larsen Playground at 19th Ave and Vicente in the Sunset, which is expected be completed later this year.  "The answer requires an acknowledgement from Rec & Park that the Pickleball community continues to grow, that the sport isn't going away." More capacity is needed to meet demand and Lafferty dedicates his time to make that happen sooner rather than later. Either way, come June, when his shoulder is healed enough to start playing again, he expects to place his paddle in a PW Paddle Rack and resume playing at his favorite court location.
- Judy Goddess