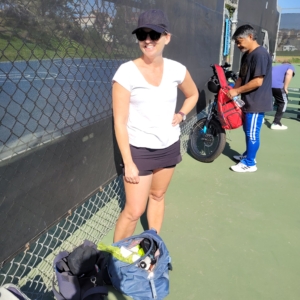 Kate Stoia – Finding Magic on the Court
Kate Stoia moved to San Francisco 34 years ago, when the city was known for its "progressive politics." But those days are long gone, it's so expensive to live here that children who were born and raised in the city can't afford to live here. And so many longtime residents are just hanging on.
Sounds bleak, and Kate would have continued to see it that way if she hadn't started playing pickleball. "Pickleball reignited my feelings for San Francisco," she said. "It's a game that attracts all ages, all walks of life, people from all parts of the city." It's a joyous melting pot and vibe that attracted her to the city in the first place.  Kate plays at Louis Sutter, which she calls "a magic place."  The game and the exercise are great, but, for Kate, it's all about the community of players and the friendships she's made.  "The social and emotional connections are what make the sport special."
Kate was introduced to the game during Covid. When the pandemic precluded indoor meetings, her book club decided to discuss books while hiking in lesser-known parts of the city. "I think that's Pickleball," one of book club members said as they hiked by the courts at Louis Sutter. It looked and sounded like fun to Kate.  Then one of their members offered to bring some paddles and balls, and the next meeting was held at the courts. That was three years ago and the six of them haven't stopped playing. "It was such a relief from the pandemic lockdown, it was something we could all look forward to."
"People were very generous about teaching us the sport", and Kate had played tennis, so she needed to learn how to moderate her stroke. "I remember Violet's son, Alan, came up and said, 'Do you want me to teach you something about pickleball?"
Two of Kate's three children also play. While both Kate and her now 22-year-old son Natan Maoz started as beginners, he quickly became "annoyingly better" than his mom.  "He's young and quick", she said, admitting that "it makes me feel good when he's sometimes beaten by people four times his age." They still play together sometimes on weekends. "It's another way to deepen our relationship."
When she's not on the court, Kate practices law and just completed a master's degree in Public Affairs from UC Berkeley. In 2022, she made a run for the Board of Supervisors seat from District 8, Noe Valley, her home district. It was her "beginner" effort, there may be more to come.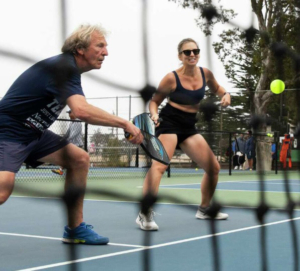 - Judy Goddess