Court Chaos !!
This summer has certainly been chaotic for a lot of reasons.  But let's confine our focus to news about Pickleball play in the City by the Bay.
STERN GROVE PLAYGROUND – New transition location
Our recently opened and freshly painted Stern Grove courts were inundated by a flood of near-Biblical proportions caused by a freak accident involving the SFPUC reservoir across Sloat Blvd.  Click the picture to read the complete damage report article.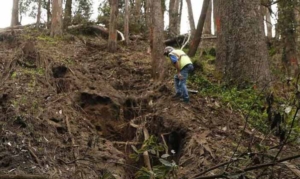 There is doubt about whether the McAteer courts at SG can be salvaged and re-opened.  Fortunately, Rec & Park is working on an interim plan for our player community.  The tennis courts at Parkside Square, which are directly north of our destroyed venue across the Grove on Vicente at 28th Ave., are scheduled to be our transition location for pickleball play. MUCH THANKS Rec & Park !!!
Parkside Square has four tennis courts and pickleball lines will need painting.  Additionally, the schedule will change to accommodate fair sharing with other long-time recreation activities already at the facility.  We had hoped to be able to provide more details, but stay tuned and expect additional announcements fairly soon.
SF REC CENTERS / GYMS – Now Open for Play
The indoor gym facilities have opened in various neighborhood Rec Centers.  Here is the link to the Indoor Schedule where drop-in play sessions are offered thru December:
https://pickleballsf.com/indoor-pickleball-opening-announcement-schedule/
This is a good play option once the rainy season (or the cold, windy season) begins.  Hey, SG players – note that the Richmond Rec Center is available for Saturday AM play.
Vaccination cards and masks are required for entry at all SF Rec Centers
OTHER COURT OPTIONS AROUND TOWN
Downtown – East Cut Crossing
For those of you that live downtown or close to the "East Cut" neighborhood in the shadow of the Salesforce Tower, some pickleball court space has been opened at the "Crossing" on the site of the former Temporary Transbay Bus Terminal.  It's a work in progress, and the two courts need a surface upgrade and permanent fencing, so for now should only be considered for novice play.  But the location has a beer garden, food trucks and will become a future hot spot for much needed open space recreation in the area.  For more info: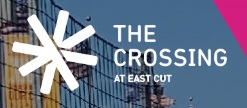 South City – The Bay Club
Opened as an indoor tennis facility at the Cow Palace, this large-space venue has painted pickleball court lines on six tennis courts, and is committing to convert two of these into six dedicated pickleball courts for use by members.  This is a private club with monthly membership fees.  Further information is available by contacting the Bay Club Community Ambassador at bayclubpball@gmail.com
Training Classes
Goldman Tennis Center – Has hired two dedicated pickleball instructors for their Pickleball course offerings – and they're both excellent.  Please see the Lifetime Activities website for class schedules and pricing.
City College SF – Offers a pickleball class on their outdoor tennis courts.  See CCSF course catalog for more information.